Country and region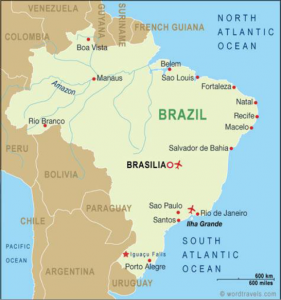 In February 2012 the students involved with the Master's course ICT in a Different Culture visited Natal (Brasil) to do research in the field of IT in relation to culture. The reasons to choose Brasil as the next location after China, India, South Africa, and Uganda include the steady economic growth, political stability and relations with Europe (and the Netherlands), but also the opportunities to collaborate with the UFRN (Federal University of Rio Grande do Norte).The city of Natal was chosen for its good opportunities to collaborate with the UFRN students, and the possibilities to visit organisation in the region of Rio Grande do Norte.
Research
In preparation for, and during our stay in Natal, different topics were researched. All these topics have IT and Culture in common, but each research group is dedicated to their own subtopic. Subtopics include outsourcing, software development, use of online communities, e-government, use of mobile devices and privacy.
The result of each research group consists of a paper that will be published in a booklet, and a presentation during the seminar at April 27th 2012.This seminar will start at 13:00 and the location is room HG00.307 of the Huygens Building of the Radboud University Nijmegen, Heyendaalseweg 135.
Visits
During the stay in Natal, the daily tasks included visits to companies, government agencies, educational and research institutions as well as places that are important to the local culture. During these visits the students were able to – using variou research methods – gather data to answer their research questions. The cultural aspects of the trip helped the students to relate their findings to cultural differences.
Organization
The organizational aspects of the study trip are partially in the hands of students as well. All students are -besides the research group- also part of an organzational group. The following groups were set up:
Website / PR
Proceedings
Introduction booklet / travelogue
Seminar
Organizational assistant