Like we said, it was going to be a busy day today. We didn't even have time for lunch, as traveling from one company to the other took about 50 minutes.
We went to FORS first, a company that builds Oracle based systems for sports, health care and insurance companies. They are 25 years old, which makes it a very mature group by Moscow standards. "Fitness data" wasn't regarded as sensitive information. To the question "don't you think that insurance companies would find that information very interesting?", they responded: "They do! They are our customers, after all."
We did have some very interesting interviews and conversations, with people that were very passionate about their work.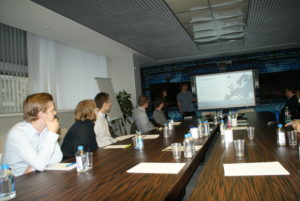 The second company, Luxoft, was a big player. They build industrial applications for large commercial organizations, and found delight in flaunting their huge statistics at us. It was when a guy from marketing had a talk when we actually got some nice stories. We got some good information after all, and the host was a friendly guy who seemed genuinely interested in us too.
The overall image we got today, was that these larger companies have a much stricter hierarchy. One could argue that it gets harder to run a business without such a pecking order, but Kaspersky seemed to prove the opposite.
Dinner at Pizza Hut today. Since we were all starving and struggling to survive on a few sultanas and a small bag of pretzels, we all thought we could finish a 30 cm pizza. The result? One full leftover pizza. To try and forget this tragedy, we finished the day with some drinks at our shady bar.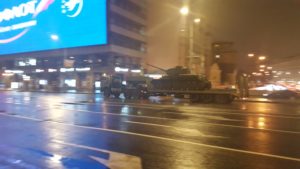 And as if the scare we got yesterday wasn't enough: right after leaving for the hotel, an actual tank drove through the street, followed by a few military vehicles and some more tanks on trucks. Only in Russia.